This I Believe is an international organization engaging people in writing and sharing essays describing the core values that guide their daily lives. Over 125,000 of these essays, written by people from all walks of life, have been archived here on our website, heard on public radio, chronicled through our books, and featured in weekly podcasts. The project is based on the popular 1950s radio series of the same name hosted by Edward R. Murrow.
Food as Metaphor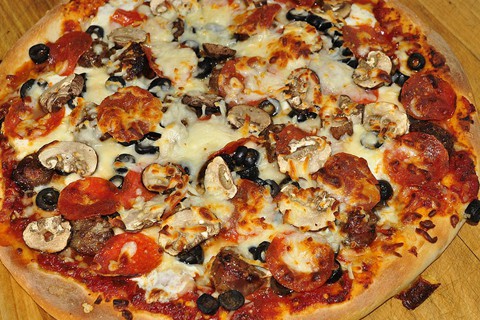 Yes, food is necessary for sustaining life. But more than just nutrition, some say food is love. Others still find that food can be a metaphor for how we should live our lives.
Click here
to learn how food has been a source of belief for these essayists.
1950s Essay: Dag Hammarskjöld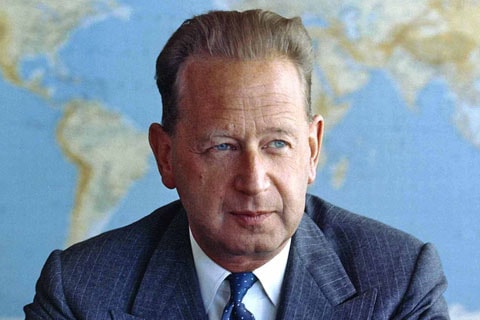 United Nations' Secretary-General Dag Hammarskjöld gleaned his belief in the value of public service from his family's line of soldiers, government officials, scholars, and clergymen. Hammarskjöld said willing fulfillment of duty was an expression of love.
Click here
to hear him reading his essay, as was originally recorded in the early 1950s.
New Android App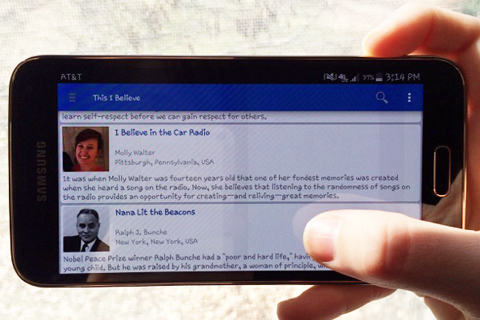 In this free app for Android mobile devices, you can carry thousands of This I Believe essays in your pocket. The app includes full text for tens of thousands of essays, as well as audio for hundreds of essays that have been broadcast since 2005. Visit the
Google Play app store
to download today!
Newsletter
Sign up here for the free Weekly News or monthly Educator News electronic newsletters.
Emily Schmitt Lavin
-
Sunrise, Florida
As heard on the This I Believe podcast,

March 30, 2015
Emily Schmitt Lavin has made a lot of grilled cheese sandwiches in her life, and she admits that a majority of them had one burned side. When she realized it was because she didn't always give the task her full attention, a deeper philosophy for living was born.
Click here for the full essay...
Recently Featured Essays